IN FLIGHT STABILIZED HD IMAGE VIDEO CAMERA BALL: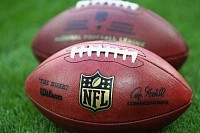 Weight, Balance & Durability 
The video camera ball is the exact official weight and balance dynamics as the non camera ball.  NFL, NCAA;

The camera ball is robust and resistant to play damage.
Key Technical Hurdles Have Been Resolved: 

**image blurring is near non-existent in video stream:
The demo frames that do show "blurring" are due to lens mount being a hand build prototype, and not due to engineering design.

**Stabilizing a rotating and wobbling video stream at 750 RPM and 30 deg of wobble.

**High frame rate industrial type burst image camera, 230 fps, (frames per second) enables "slow-motion" video to be broadcast.